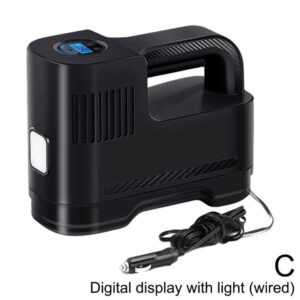 Features:
Usability & Convinience: Ideal for use on cars, bicycles, motorcycles, SUVs, ATVs, and sports equipment and pneumatic tires. Three additional nozzles and adapters are included for this purpose.. comes With an in-built LED light to help check the condition of your tires condition and locate the nozzle easily even when in dark spots or at night. Comes with an Intelligent air pump / an auto stop when tyre intended pressure is achieved. Has two reader scales (PSI and KPA). These make it easier and convenient to accurately inflate low or flat tyres.
The LED scale can be used to check the tyre at the confort of your home conveniently.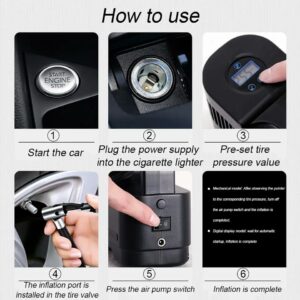 High Quality: The exterior of the inflator tube is made of braided nylon, which is tough, does not break easily and does not get hot easily. build in temperature control chip allows the pump to inflate quickly without getting hot.Imported permanent magnet motor, which is a professional grade silent motor with strong pressure dramatically improves inflation speed.